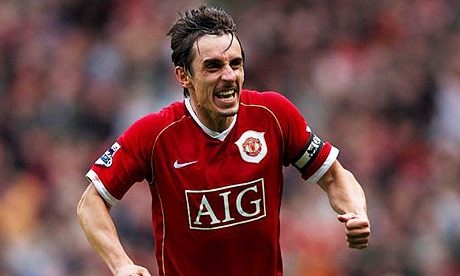 As a childhood United fan, Gary Neville has revealed his hatred for Liverpool. The 35-year-old club captain has said his blood boiled from Liverpool's dominance of the Premier League. However, with United having passed the Scousers out, he now has more respect for our rivals, than Chelsea or City.
The Red's host Liverpool at Old Trafford in two weeks time, where new manager Roy Hodgson will attempt to prove his worth against the almighty Sir Alex Ferguson. And before anything else, Nev has begun the traditional pre-match verbal row.
"When I was younger there was no doubt about it - I was a United fan, they (Liverpool) were winning everything and it was a horrible time. Jealousy, hatred, passion for your own club, you don't want them to win anything and you don't like the people who're winning." Neville told United legend Paddy Crerand on MUTV.
"I suppose it comes from jealousy through my childhood but I have more respect for them as a club in a sense of their tradition and their history than I do for some other clubs who've been coming on the scene in the last few years, throwing a load of money at it. Liverpool have got a good history, you have to hand it to them, and they've been successful."
Ryan Giggs was recently tipped for the position as Wales manager - which he obviously won't take, yet. Paul Scholes has also revealed his dream of becoming a gaffer, as has Michael Owen.
But what does Nev think ? - "I am maybe a bit too emotional. You have to have the patience to understand players. I am not sure I would be able to do that. I think Ryan Giggs can do it. I think Paul Scholes could do it. I am wondering if its the right thing for me. I am not sure."
Neville added that this season could be his last at The Theatre Of Dreams...
"Two years ago I thought it would be my last season. Obviously, last year I felt the same. I recognise this one could be as well. I turned round during training one morning (last April) and said: 'I have three games to go at Manchester United'. I had not spoken to the club and I genuinely felt it could be the last three weeks."
source :
http://www.united-latest.com